Vid Pick: Vinnie Scullo - Five Song Sampler
Friday, October 31, 2014

I've been telling folks about Vinnie Scullo for around a decade now, and as long as he continues to create great music, and art, you're going to keep hearing me saying his name (or reading me type his name). Here's why...

If you love hip-hop, you'll love Vinnie Scullo.

If you love experimental music, you'll love Vinnie Scullo.

If you love anti-establishment ideologies, you'll love Vinnie Scullo.

Still unsure of your feelings regarding Vinnie Scullo? Check out this five song sampler from his upcoming album, Game Gear, which is due out in April of 2015. You'll get some music, some conversation, and a top ten list that includes a story very similar to one I lived through. If you dig what you hear, subscribe to Vinnie's YouTube account, and strap in for a wild ride!



Labels: Vid Picks
posted by Adam Bernard @ 7:00 AM

The Stone Foxes Are Going To Save The World
Wednesday, October 29, 2014

If a meteor is hurtling towards earth you're probably going to want to call on someone other than The Stone Foxes to take care of the situation. That said, the Bay Area rockers are playing their own unique role in saving the world.

Read the full interview at Arena.com.



Labels: Music Interviews
posted by Adam Bernard @ 3:15 PM

Pop Shots - The End Is Near
Monday, October 27, 2014

Welcome to your weekly dose of pop world musings. Covering all things pop culture, this week Pop Shots is hitting you with thoughts on everything from Justin Timberlake's tour getting a grand finale, to Jason Derulo's plans to eulogize his relationship with Jordin Sparks, to Jennifer Lopez possibly ditching the road in favor of a permanent address, and since it's Pop Shots you know everything is seasoned with a little bit of attitude.

* The final two shows of Justin Timberlake's 20/20 Experience world tour will take place on January 1st and 2nd at Las Vegas' MGM Grand Garden Arena, and they'll have a special guest, as they'll be filmed by none other than Jonathan Demme. Demme is best known for directing The Silence of the Lambs, as well as concert docs such as Talking Heads' Stop Making Sense. Personally, I think Demme should combine those two wildly disparate types of films for this project. With the popularity of The Walking Dead, the crowd will go wild if Timberlake closes the tour by cooking and eating the other members of NSYNC.

* A glitch in the Canadian version of iTunes released a track called "Track 3" that looked like it could be a new song from Taylor Swift's upcoming album 1989, but instead was just eight seconds of white noise. Because people didn't preview the song, and simply bought it, "Track 3" rocketed to the top of the chart. Somewhere in Heaven, John Cage smiled.

* In an interview with Hello! magazine James Blunt apologized for how his 2005 hit "You're Beautiful" was "force-fed down people's throats." So, for the record, Ruben Studdard has apologized for 2004, James Blunt has apologized for 2005, and we have to assume Britney's working on a mea culpa for 2007.




* Pitbull will not only be hosting the American Music Awards on November 23rd, he'll also be performing a song from his upcoming album, Globalization. There's no word on if Satan will also be making an appearance, but we're pretty sure that's who's currently in possession of Pitbull's soul since nothing else can explain the pop-rapper's longevity.

* In a Billboard.com interview Jason Derulo said he plans on writing about his breakup with Jordin Sparks. "Oh, 100 percent," he was quoted as saying, "I'm somebody who cannot keep those two things separate. Like, I have to put it on paper, put it on wax, put it in my songs. I cannot separate the two. My creativity, my personality won't allow me to separate the two." Sparks shouldn't be too concerned, however, as it took Derulo collaborating with seven other people to come up with the lyrics to "Wiggle Wiggle."

* According to TMZ, Jennifer Lopez is reportedly in negotiations for a Las Vegas residency at the Axis theater at Planet Hollywood, which happens to be where Britney Spears is currently in the midst of her "Piece of Me" residency. The deal is rumored to be for three shows per week for 24 weeks, at $350k per show, for a total in the neighborhood of $26 million. I'm not sure if this is really a wise investment for Planet Hollywood, though, because if people want to see a 45 year old mother of two shake it on a stage, Las Vegas features a plethora of strip clubs with lunch buffets.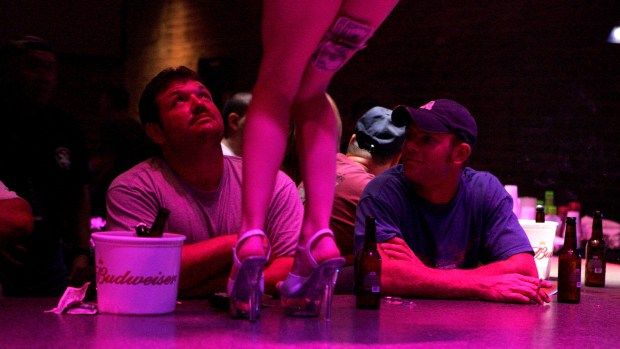 * News of Katy Perry's plans to celebrate her 30th birthday in Egypt became so widespread that it caused the singer to cancel the trip altogether, citing "safety reasons." If anyone's wondering, she also did not end up spending the big day, which was October 25th, at the CMJ showcase I was covering, although I totally could have shown her a good time!

* Country duo Florida Georgia Line notched their first No. 1 album on the Billboard 200 chart, as their latest offering, Anything Goes, sold 197,000 copies in the week ending October 19th. Anything Goes is the third consecutive country album to top the chart, so ditch the Schmoney Dance, it's time to work on your Texas Two Step.

* Last, but not least, Gwen Stefani is back, and with an awesomely trippy new video.




And with that, my time is up for the week, but I'll be back next week with more shots on all things pop.



Labels: Pop Shots
posted by Adam Bernard @ 7:00 AM

Vid Pick: Rainy Milo - Bankrobber
Friday, October 24, 2014

In the spring of 2013 a friend of mine told me about an artist her former boss had just signed named Rainy Milo. Knowing how legit her recommendations have always been, I hit up Rainy's Soundcloud page and downloaded all of the available songs (which are no longer available for free. Sorry folks!). She sounded great, and I wanted to hear more.

It took a little while for that to happen, but his past Tuesday the London-based soul singer was at DROM for her first ever performance in NYC. With vocals that have a hint of Duffy / Gin Wigmore, and a personal sense to style, and confidence, reminiscent of Aaliyah, the soon to be 19 year old singer wowed the entire crowd, including yours truly, who was standing front and center.

If you want to be wowed, too, check out Rainy Milo's latest, which is a cover of The Clash's "Bankrobber." Rainy puts her own twist on the song, and it's further evidence that she's on her way to being one of the next great British musical imports.



Labels: Vid Picks
posted by Adam Bernard @ 7:00 AM

Spinn Are Putting A City Twist On Country
Thursday, October 23, 2014

Being a country trio in the New York City area, Spinn realized very quickly that they were going to be fighting an uphill battle. "We would literally say, 'we're in a band,'" Stephanie Spinner remembers, "and they'd be like, 'not country music, right?'"

Read the full story at Arena.com.



Labels: Music Interviews
posted by Adam Bernard @ 1:59 PM

Follow
Email List
Fresh Interviews

Veruca Salt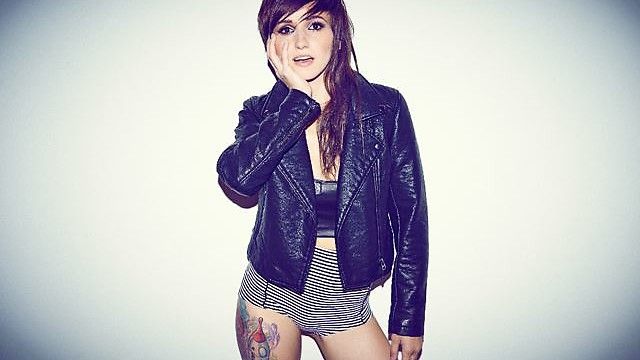 Lights

Pentatonix
Latest Podcast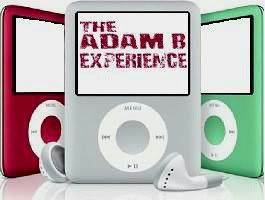 The Adam B Experience Episode #78
Stand-Up Comedy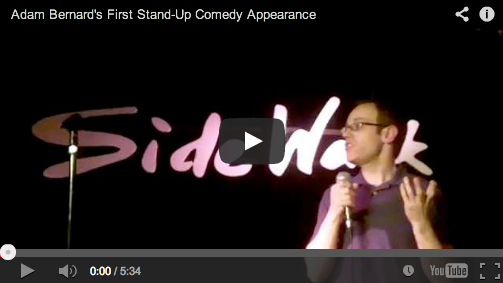 My set from Soce's
First-Timer's Show (April '14)
B-Lister Nation
B-Listers are a select group of artists that were featured in my Artist Of The Week series that ran every Monday from April of '06 to April of '11. All of these artists have two things in common; extreme talent, and a flight path far too under the radar for my liking. They took on the title of B-Listers as they embraced being featured by me, Adam B. Check out the AOTW Archives for all the interviews.
Friends of Adam's World
60 Second Review
Adam John | Kid Kryptic
Always Home and Uncool
AngryMarks
Backpack Cat
Claudia Alick
Definitely Amazing
Gangstarr Girl
Fly Like Dove
FreeHipHopNow
Halo Doesn't Suck
I Are Conscious
iHeartDilla
Jesse Abraham
Joey K's Place
Jus Rhyme
Ken Morico
Life of a Rockstar
MC Larny Rocks
Nappy Diatribe
Nobody Beats The Liz
Paul Gargano
Pay Us No Mind
Popular Opinions
Ramblings of the BK GrrlGenius
RapDirt
RapReviews
Sleep Dirt
Speech Is My Hammer
Stamford Talk
The 54 Reality Show
The BillaBlog
The Race to Nowhere
xo Publicity
Member Of